Sign Describes Fascinating History of Bluff Point and Keuka Lake
Original Date: June 14, 2015
Last Modified: August 27, 2017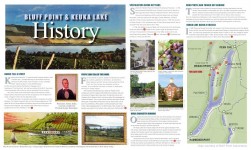 Here's the text of the Bluff Point and Keuka Lake history sign, to be dedicated on June 20.

--

BLUFF POINT & KEUKA LAKE HISTORY

NAMES TELL A STORY
Keuka Lake's distinctive Y shape led early European settlers to call it Crooked Lake; perhaps believing one of the Native American names for the lake, Keuka, meant Crooked. In fact, it probably meant Canoe Landing or Lake with Bent Elbow. Another early name used by the Seneca is Ogoyaga, which translates as The Promontory, and may have referred to the Bluff. Any portion of the land between 54A and the tip may be called Bluff Point or the Bluff.
Penn Yan's unique name combines the origins of Pennsylvania and New England settlers. Branchport was first known as Esperanza, from the Spanish for hope, changed in 1831 to its more descriptive name.
The district, later town, of Jerusalem was named in recognition of Jemima Wilkinson, The Publick Universal Friend, and her followers. Beginning in 1788, about 300 of the Friends settled near Seneca Lake and the Keuka Lake outlet. Because of land disputes, they relocated north of Branchport, building a sizeable home on Friend Hill Road in 1814.


PEOPLE LONG CALLED THIS HOME
For thousands of years, people inhabited this region as hunters, gatherers, fishermen, and farmers. Many believe ancient stone works existed on Bluff Point, but their origin and purpose remain a mystery. Any evidence has been covered or destroyed, leaving no visible traces.
The Iroquois (Haudenosaunee meaning People of the Longhouse) and its League of Six Nations occupied a vast area including the Finger Lakes. Near here, the Seneca lived as the Keepers of the Western Door and were called Onondowagaw or Great Hill People. As in current times, Keuka Lake was a favorite fishing site. These Native Americans lived by democratic rule as part of a confederacy. Red Jacket, a Seneca leader and noted orator, called Sagoyewatha or He Who Keeps Them Awake by his people, was raised in his mother's home just south of Branchport.


SPECULATORS BRING SETTLERS
Settlement of Western New York followed the American Revolution. A 1788 treaty transferred 2,600,000 acres of Ontario County from the Seneca to New Englanders Oliver Phelps and Nathaniel Gorham. Most of this tract was soon purchased by a British investment group known as Pulteney Associates. Lots were sold by their land agent, Charles Williamson. The Bluff, originally in Ontario County, became part of Steuben County in 1796, then returned to Ontario County in 1814, and became part of Yates County along with the Town of Jerusalem when the county was formed in 1823.
In 1798, John Beddoe, a native of Wales, built his family home at the site of today's Keuka Lake State Park. He and his son, Lynham, began the development of the north end of the west branch of Crooked Lake. In the 1830s, brothers John N. and Henry Rose built their estates, Esperanza and Hampstead. The Beddoe-Rose cemetery is in Keuka Lake State Park.

RURAL CHARACTER REMAINS
Originally, the steep hills around the lake were thickly forested. Trees removed for farming provided profitable lumber, including timber for masts on British ships and later the USS Constitution. Farms began to blanket the area, leading to today's highly diverse agriculture. In recent years, Mennonite and Amish families have given new life to older farms.
The Finger Lakes wine industry began with American grapes developed in the 19th century, sold both as table grapes and wine. Support industries included the making of wine barrels, pickers' trays, shipping crates and baskets, and tourism. By the beginning of the 20th century, Bluff Point and many of the hills around the lake were covered with vineyards.
Paul Garrett, known as the Dean of American Winemakers, lived on the Bluff. He and his family are buried in the Garrett Memorial Chapel built in 1930. Today's thriving wine industry was enabled by the 1976 New York State Farm Winery Act that allowed vineyard owners to make and sell wine as well as grow the grapes.


HOW PEOPLE AND THINGS GOT AROUND
The lake was a natural roadway for people and goods, including logs floated to mills and railroads. With the addition of steamboats from 1837 to the 1920s, transportation became more efficient. Advances on land included a plank road operated as a toll road from 1849 to 1879 between Penn Yan and Branchport. From 1898 to 1927, an electric trolley connected Penn Yan, Keuka Park, and Branchport, with a special 30-cent excursion Round the Loop (25 miles by steamboat and nine by trolley). During this time, next to the trolley's power station in Keuka Park was Electric Park which offered free admission to picnic grounds, band stand, dancing pavilion, and mini zoo.

KEUKA LAKE GAINS A COLLEGE
In 1890, Reverend George Harvey Ball, with support of the Central Association of the Free Baptist Church of New York and Pennsylvania, founded Keuka College, a coeducational school at Keuka Park. The school was reorganized by President Arthur H. Norton in 1921 as a college for women. It became coeducational again in 1985. Norton Chapel, a site of many weddings and events, was built as a nondenominational church in 1964 to honor this president.


References:
Africa, Philip A., Keuka College: A History, Judson Press, Valley Forge, 1974

Cleveland, Stafford C., History of Yates County New York, Published by S.C. Cleveland, Penn Yan, New York 1873

Dumas, Frances, A Good Country, A Pleasant Habitation, 1990

Dumas, Frances, Changes & Returns Chapters in Our County's History 1823 to 1998 Yates County, 1998

Davis, Jane, The Beddoe Tract, Crooked Lake Review, Penn Yan, New York Fall 2004

Davis, Jane, The Beddoe Tract, 7,000 Acres in Central Western New York State: It's History from 1792 to 2004, Published by Jane Davis, Penn Yan, New York, 2005

Keuka Lake Book, Keuka Lake Association Inc., Penn Yan, NY

The Keuka Lake Watershed Protection Summary, Keuka Lake Association Inc., Penn Yan, NY


Image Attributions & Captions: (clockwise from upper left)
Bluff Point & Keuka Lake History, antique postcard, Yates County History Center

Garrett Memorial Chapel, antique photo, Yates County History Center
Garrett Memorial Chapel graces the tip of Bluff Point.
Grapes, photo, Judy Erwin,
Finger Lakes vineyards and wineries continue to flourish.

Ball Hall at Keuka College, photo, Nancy Peek
Keuka College attracts students from across the world.

Horse-drawn buggy, photo, Kathleen Dougherty
Horse-drawn buggies are a common sight in the area.

West Branch with Trolley, Ralph Hall (American, 1902-1980). Oil on canvas. Private collection. Photographed by Gerald Lange.

Urbana Steamboat, antique postcard, Yates County History Center
The 30-cent excursion, Round the Loop took passengers from Penn Yan around the Bluff by steamboat to Branchport and returned them to Penn Yan by trolley.

Sagoyewatha (known as Red Jacket), ca.1828. Charles Bird King (American, 1785-1862). Oil on wood; 17 ½ x 13 ¾ inches (44.45 x 34.925 cm). Collection Albright-Knox Art Gallery, Buffalo, NY. Gift of The Seymour H. Knox Foundation, Inc. 1970. Image courtesy of the Albright-Knox Art Gallery. Photograph by Tom Loonan.
Red Jacket, Seneca leader, received a medal from President George Washington.




---